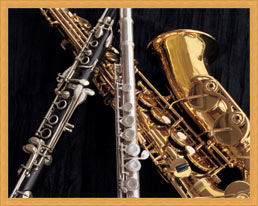 Specializing in woodwind repair for the South Suburban areas of Chicago, Illinois. We service all woodwinds including flute, piccolo, clarinet, bass clarinet, saxophone, oboe and bassoon.


Woodwind Repair Services
At Bri-Lyn Music, we utilize repair materials which will match or exceed original manufacturer's specs. A variety of pads are stocked in 1/2 mm increments and several thickness to insure proper fit and feel. Pad types available for each instrument include:
Flute/Piccolo
Yellow double or triple skin premium felt pads. Straubinger pads available for professional instruments.


Clarinet/Oboe
Transparent double or triple skin premium felt pads. Cork pads for closed keys are optional. Straubinger pads are available for pro instruments.


Saxophone
Premium felt leather pads or Kangaroo skin (white and now available in tan). Kangaroo is thicker, lasts longer, is quieter and reduces stickiness. Resonators are sized to pads and are matched to originals on play conditions. Options are plastic, Selmer Domed Metal, and screw on brass resonators (reusable).
All woodwind instruments can be serviced by Brian at Bri-Lyn Music including flute, piccolo, clarinet, bass clarinet, saxophone, oboe and bassoon. Most repairs fall into two categories:
Woodwind Play Conditions
All pads are leveled to insure proper seal. Keys are adjusted and regulated to give proper feel and maximize sound projection. Keys are oiled and instrument is thoroughly play tested. Pads, key corks, felts, and springs are replaced as necessary. Instrument can be cleaned along with the playing condition job. There is a 90 day warranty on this service.


Woodwind Repad/Mechanical Overhaul
Instrument is completely disassembled and cleaned. Keys are straightened and handfit for a smoother and quieter action that will also prolong life of the pads. Tone holes are leveled and surfaced as necessary. Minor dent work and joint fitting is also included. All corks, felts, and pads are replaced with high quality materials. Pads are leveled and seated. Keys are adjusted, regulated and oiled. Instrument is then play tested by Brian to insure the best feel and tonal resonance. One year warranty on any further adjustments needed.
Other repairs available include:
Clarinet joint tenon corks
Saxophone MPC cork
Clarinet crack repair
Cleaning & polishing
Spring replacement
Soldering
Dent work

Body Straightening
Trumpet valve repair
Trombone slide repair
Pulling stuck slides or mouthpieces
Flushing and cleaning trumpets, trombones, French horns

** FREE ESTIMATES **
ALL WORK GUARANTEED